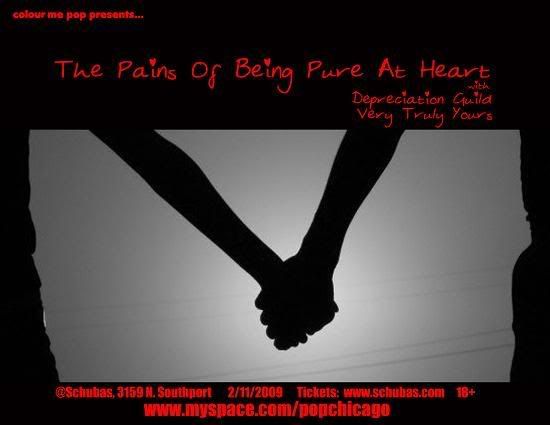 I am almost too excited to see
the Pains of Being Pure at Heart
tonight. I know at some point, I am going to have to stop listening to their album so I don't get too burned out before the show. And, while that time may not quite have come (I mean, the show's not until 9pm...), I can gear up in a different way—by listening to the wonderful openers,
Very Truly Yours
.
I don't know too much about the band, and what I do know is all second-hand from friends, including my best friend, the Internet. But Chicago pop is hard to come by, which is why I feel it is necessary to say some kind words. Very Truly Yours strike a pure pop beauty that isn't overly saccharine or precious. It is sincere and beautiful with just the right amount of distortion in the background to make it a little messy. I guess think of the Softies fronted by Amelia Fletcher, or Strawberry Story when Hayley Beckman is at her most calm. Made up from three-fourths of contributors to the Chicago band
the Lorimer Sound
, Very Truly Yours is the perfect simple pop band Chicago has never had.
They just released a great split EP on
Cloudberry
on January 1st with the Understudies from the UK. They were also just on a
WeePOP!
comp and are releasing a new song on an upcoming
Series Two
comp! Wow! Certainly a pop band to watch, and one of the few we've had from Chicago in a long time. And they're only a few months old!!
And don't forget to come to tonight's show! The Pains of Being Pure at Heart with the Depreciation Guild and Very Truly Yours @ Schuba's, 9pm. Tickets are only $8! The show will be put on by my good friends
Colour Me Pop
!
Download:
Very Truly Yours - "Popsong '91"
I would also like to take this time to ask: WHAT THE FUCK IS UP WITH THE
TWEE.NET
POLL
/SERIES TWO RECORDS DRAMA?! For a bit of background, Series Two swept the Best Record Label of 2008 category with around 60 more votes than any other record label, and about 60 more votes than were even present in any other category...
Slumberland
came in a far second, and I don't think anyone was arguing that the label that put out so many solid indie pop releases of 2008 deserved to be #1. But some are taking quite a bit of offense to this drama. Cloudberry went as far as saying that Series Two owner, Chris B, was causing
"terrible damage"
to the twee pop scene. His response? "Better luck next year!" Ouch!